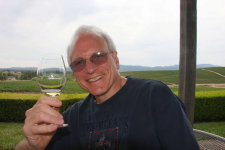 ***********************************************************
This paper is an exploration of the life and death of Fr. Richard Novak, C.S.C. The resources still incompletely researched include a trove of family letters and papers, the National Archives outside of Washington, DC, and Pakistani court reports and transcripts. The available resources in the Holy Cross Eastern Province Archives in North Easton, MA, the Michael Novak Archives at Stonehill College in North Easton, MA; the Foreign Mission, Generalate in the Notre Dame University Archives, and the Holy Cross Indiana Province Archives at Notre Dame, IN, provide much detail of what is known and understood about Father Novak's life and death as do the interpretive memories of many of Father Novak's colleagues. This paper also attempts to identify unresolved issues regarding Father Novak's death and his life.
By 1944, when the family picture below was taken, Richard had two more brothers: James Joseph, born in 1939, and Benjamin Edward, born in 1943.
He was confirmed Richard James Michael Novak by the Most Rev. Hugh C. Boyle at St. Pius Church in McKeesport, PA on May 27, 1947. In August
1955-1958: Studying at Stonehill
1958-1961: Studying for the Priesthood
Permission granted, he was ordained alone 'in all simplicity,' as a French paper reported, in Notre Dame de Sainte Croix at 9AM on June 29, 1961, the solemnity of Saints Peter and Paul. Father George DePrizio, his Provinical Superior, Pere Gagnon, his parents Michael and Irene, and a dozen of Dick's seminarian friends, were present.
1962: His first year preparing for Missionary Work
1963: His first full year as a Missionary in East Pakistan
a stunning view of the snow-capped Tatra Mountains above green expansive valleys. This deep commitment to the Catholic faith through Christ on the cross, and the value and the importance of preserving indigenous culture and language, were to reverberate throughout Richard Novak's life.
1964: Beginning his second full year in East Pakistan
It was not until January 24th, eight days after Father Novak disappeared, that a witness by the name of Ashraful Huq came to the College. He reported that his maidservant saw the murder of Father Novak occur sometime after 1300 hours by five men, whose names were known. Father Novak was on a boat coming across the Sitalakhya River when, near the landing, he was attacked by two youths on board. When he struggled, the youths called out for others to come and 'kill another Hindu.' Huq was able to offer vivid details from his maidservant about Father Novak's last moments:
Remembrances and Responses to Father Novak's Death
He was one of the most fearless young men I ever met, and one of the most selfless, which combined to make him most adaptable for the work of a missionary. He was constantly looking for an outstanding challenge and he found it in his decision to dedicate his life to the apostolate to the Moslems, admittedly one of the most difficult of all apostolate. In twelve hundred years Christianity has never really built a bridge to Islam. Yet, that is what Dick chose, and went off unquestioningly, fearlessly and selflessly to Pakistan.
In recently contemplating Father Novak's life, Father Ernest J. Bartell, C.S.C. said:
Father Germain-Marie Lalande, Superior General of Holy Cross, wrote on January 27, 1964, to Father Robert McKee in Dacca:
In the course of a private audience with the Holy Father [Pope John the XXIII], I informed the Holy Father of your great trial. The Holy Father's immediate reaction was: martyrdom. As you can well understand, the nature and reasons for Father Novak's death will have to be ascertained before we can speak of martyrdom...This is God's mysterious way of building up His Church….
Fr. Germain Lalande, in telling Pere Daniel Deveau, C.S.C. of Father Dick's death shortly thereafter, asked if Pere Deveau was surprised:
Further, Pere Deveau wrote:
Family Reminders through the Years
Conclusion: The Quest Continues