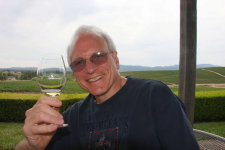 SANDOR/SANDERS and NOVAK ANCESTORS
My SANDOR and NOVAK families came to America in the late 1800s from small towns in Eastern Europe, in what is now Slovakia, in the empire of Austria-Hungary. My father was born Ervin George SANDOR on March 24, 1929, in Youngstown, Ohio. His father changed the family name to SANDERS in 1947. Ervin SANDERS married Mary Catherine WITT, whose mostly German ancestors are given at
WITT and KEFFER Ancestors
, in 1952.

The earliest SANDOR ancestor I have sure information about is Andreas SANDOR, born about 1795 or so, probably in Zsadany, now called Zdana, Slovakia. I found the records for the baptisms, marriages and burials of our ancestors as a result of some work sent to me concerning the "Descendants of Michael LAKATOS". These records referred to births and marriages in "Misla", which reference, although an error, led me to the Catholic church records from Nizna Mysla, Slovakia. I first looked at these records on microfilm at the Library of the Church of Jesus Christ of Latter-Day Saints, in Salt Lake City. My visit to Salt Lake City was too short, of course, but I was thrilled to learn in August 2009 that the Wisconsin Historical Society Library had started to work with the LDS Library to bring films to Madison. This opens a whole new world of research for me, and it's considerably cheaper to bring films here than to fly to Salt Lake City and work in the library there. The records from Nizna Mysla are mostly for families from the small towns of Nizna Mysla, Vysna Mysla, and Zdana, Slovakia. In the 19th century, when this part of Slovakia was dominated by the Kingdom of Hungary, these towns were called Also Mislye, Felso Mislye and Zsadany.

Andreas SANDOR married Maria TOTH in 1819, and their children were all born in Zsadany. Unfortunately, the marriage records for most of the early 19th century, until about 1856 or so, do not list the parents of the couple. Therefore, I can't unambiguously identify the parents of Andreas and Maria. There were two babies named Andreas SANDOR born in the late 1700s; the first one died, so I assume that my ancestor is Andreas SANDOR, son of Paul SANDOR and Elisabeth UJJOBAGY, born July 1, 1794 in Zsadany. There are several possibilities for the parents of Maria TOTH. But of course it's possible that the baptisms of my ancestors may not be included in these records at all.

I suspect that the majority of SANDOR marriages in the middle of the 1800s involved children of Andreas SANDOR and Maria TOTH, but of course the lack of parents' names makes it unlikely that I can prove this. Fortunately, my ancestor György was one of the younger children in the family, and he was not married until 1862, so his parents were named in the marriage record. György SANDOR married Maria JUHASZ, daughter of Andreas JUHASZ and Anna LACZKO. Unlike the SANDOR family, which first appears in these records in 1785, the JUHASZ name appears in the very earliest records from this church for 1766.

Joseph SANDOR, born in 1872 in Zsadany, was the son of György SANDOR and Maria JUHASZ. Joseph married Mary LAKATOS in Also Mislye (Nizna Mysla) early in 1895. Mary, born in 1877 in Zsadany, was the daughter of Michael LAKATOS and Mary CZICZMAN, who were married in 1868. Michael, born in 1843 in Zsadany, was the son of György LAKATOS and Elisabeth GERGELY; Mary, born in 1849 in Also Mislye, was the daughter of Andreas CZICZMAN and Elisabeth GAAL.

Joseph SANDOR and Mary LAKATOS were both born in Zsadany. The town of Zdana today has a population of about 1300 people; I don't know how many of the SANDOR and LAKATOS families immigrated to the United States, but I suspect it is likely I have many relatives among the inhabitants of this little village in southeast Slovakia.

Joseph SANDOR came to Wisconsin in 1896. I believe he was the Josef SANDOR who was aboard the Kensington in May 1896; the ship list says that Josef was heading for Johnstown, Pennsylvania. That he lived in Manitowoc for a number of years before moving to Johnstown is likely due to the fact that his brother-in-law, Michael LAKATOS, had moved to Manitowoc some years earlier. (I have a number of LAKATOS relatives in Wisconsin still today.) My identification of this man as my ancestor is from the Wisconsin naturalization record which says that Joseph came to America in May 1896. Mary and their infant son Joseph joined Joseph in 1897; they came aboard the Friederick der Grosse in May 1897. Mary is listed as Maria LAKATOS, age 20, and Joseph is listed as 3 months old. For me, the proof of this identification as Mary (LAKATOS) SANDOR is the faint listing of the destination of Mary as being Manitowoc.
My grandfather George SANDOR was born in 1900 in Manitowoc, WI, but he and his family moved to Johnstown, PA, about 1903. Today I have numerous relatives in Johnstown, and the family is considered to have come from Johnstown. It is only since mid-2007 that I have begun to discover my Wisconsin relatives, despite the fact that I have lived in Wisconsin most of the time since 1978. Some pictures from my Wisconsin LAKATOS relatives are found at
Wisconsin LAKATOS Pictures
.
Mary LAKATOS and her children are pictured below. From the ages of the children, I would guess that the picture was taken about 1920, when the youngest, Agnes ("Aunt Aggie"), was 7. The children are (from left rear): Joseph, age 23, who was married to Mary TOKAR in 1918; George, about 20; Mary Elizabeth, about 17; John, about 13; (from left front): Frank, about 11; Mary LAKATOS, about 45; Agnes, about 7; and Andrew, about 9. All but Joseph were born in the United States.
Stephen NOVAK came to America sometime between 1886 and 1891. He may have been the Stefan NOVAK, age 28, who was aboard the ship
Lessing
which departed from Hamburg and arrived in New York City on May 4, 1888. Stephen's granddaughter Mary Ann NOVAK, cousin of Ervin SANDERS, has thoroughly explored and documented Stephen's history in
"The Stephen NOVAK Story."
Stephen was married to Anna OCIPA when he came to America and settled in Johnstown, PA. Anna died in May 1901, and Stephen married Johanna KASCSAK in November 1901 in Passaic, NJ. Johanna had arrived in New York City on the ship
Friesland
from Antwerp in August 1900; her sponsor in America was her uncle Andrew SALKO, married to her aunt Barbara KASCSAK.

Stephen and Johanna's wedding picture is shown below. We have not identified the people in the picture except the bride and groom. Stephen was 43 and Johanna was 17 at the time of the wedding; Stephen died in 1911 at age 52; Johanna lived until 1959 and died at age 75 in Youngstown, OH. Since I was born in 1956, I overlapped with her a little, but of course I have no memory of my great-grandmother. I am told she was a wonderful person.
Johanna KASCSAK NOVAK is shown below with Alva May SANDERS, one of her great-grandchildren, in 1955, near the end of her life.
The son of Joseph and Mary (LAKATOS) SANDOR married the daughter of Stephen and Johanna (KASCSAK) NOVAK in Johnstown. Below left is a picture of George SANDOR and Mary Jane NOVAK on their wedding day in 1928. Anna YANKURA, the bride's best friend, and John SANDOR, brother of the groom, were Maid of Honor and Best Man.
Ervin SANDOR (SANDERS), my father, is shown above right at 1 year old. Below left is Ervin in December 1933, at the age of 4. Pictured on the right below are George SANDOR and Mary Jane NOVAK about 1939, with their children Jerry (in George's arms), Bernadette (center front), and Ervin (on the right). The two boys on the left are Danny and Larry NOVAK, sons of John NOVAK and Amelia HAVEL.
The left hand picture below shows Ervin SANDERS and Mary Catherine WITT in 1951. On the right is Ervin with his parents, and below is Ervin at 77 years old.
George SANDERS died in 1965, but Mary Jane NOVAK SANDERS lived until 1982. I saw her at Christmas 1982, and she died 3 days later. My grandmother, Mary Jane NOVAK SANDERS, is shown below, second from left, with her sisters-in-law. Mary SANDERS COOPER and Agnes SANDERS DEMBROSKY were sisters of my grandfather George SANDERS; Mary TOKAR SANDERS was the wife of George's brother Joseph SANDERS.
Below left is a picture of my father's cousin, Kenneth SANDERS, born Feb. 11, 1940, and died in summer 1983. Ken was a son of Uncle Frank SANDERS and Joanna STANKO. Ken was one of the Catholic priests who celebrated our marriage with us. We had hoped he would baptize our eldest child, but he died of a heart attack shortly before our son was born. Our oldest son's middle name is Kenneth in honor of Fr. Ken SANDERS. Ken was about 8 in this picture, taken about 1948.
My father had another cousin who was a priest, Richard NOVAK (above, right), who was killed in the former East Pakistan while serving as a missionary. Richard was the son of Michael NOVAK and Irene SAKMAR. His sister Mary Ann NOVAK recently wrote a description of
the life and death of Father Richard NOVAK
for the Holy Cross History Association.
Margie SANDERS CHIRICOSTA provided this picture of her father and mother, Joe and Mary TOKAR SANDERS, on their wedding day in 1918. Joe and Mary were both born in Austria-Hungary, but all of Joe's siblings were born in the United States. We haven't identified all of the people in this photograph, so any family members who can positively identify them are invited to contact me at
MadVintner@aol.com
. Ervin SANDERS believed that the woman seated on the far right is his grandmother (Joe's mother), Mary LAKATOS. Joe's father Joseph SANDOR died in 1914. But in October 2011, Martin LISON, a cousin of my cousins, sent me a picture of his ancestors in the GMUCA family. The GMUCA photo makes it clear that the woman on the right is Maria TOKAR, aunt of the bride.
*******
Please direct comments (broken links, content errors, and so on) to
MadVintner@aol.com
.




Genealogy Mistakes - There are bound to be mistakes. Some are no doubt transcription errors, others are errors in my interpretation of data, a few are errors in the texts I have used. All are, of course, my responsibility, and I'd be happy to discuss errors. I'm most concerned with relationship errors. There are many omissions of dates and offspring, some because I didn't find the data, others because I simply did not pursue all the possible avenues of information. I am always happy to discuss family history with relatives and interested observers.
Research for these genealogies was done largely at the State Historical Society of Wisconsin Library in Madison, Wisconsin. Visit them at
http://www.wisconsinhistory.org/libraryarchives/
. I would like to thank them and recommend to all that you support your local historical society with donations.

This page was last updated on 10/19/2013.
Joseph SANDOR died in Johnstown in 1914. The only picture I have ever seen of Joseph was sent to me by a cousin, daughter of Agnes SANDOR, youngest of my grandfather's siblings. My dad also said he had never seen a picture of his grandfather Joseph.