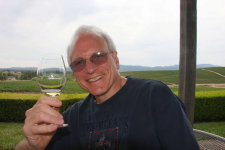 SANDERS and NOVAK CEMETERY PHOTOS
I visited Johnstown, Pennsylvania, in the summer of 2009. Some of my family are buried in the cemetery of St. Stephen's Slovakian Catholic Church (see pictures of the church below). Joseph SANDOR and his wife, Mary LAKATOS, along with several of their children who died young, are buried together near the bottom of the hill. The group of graves (looking up the hill) is shown below.
The gravestones are quite worn and only partially legible. Joseph's stone is shown on the left below, Maria's on the right. "Tu Spociva" apparently means "Here rests", or "Here lies".
It is interesting to note that there is a grave for another Maria SANDOR right next to the graves of Joseph SANDOR and Maria H. SANDOR. I suspect this is Joseph's mother, Maria JUHASZ SANDOR. But I had never heard that she might have come to America. She certainly did not accompany Joseph, nor was she with Mary LAKATOS and young Joseph SANDOR when they came to join Joseph SANDOR in Wisconsin. I have not found an immigration record for Maria SANDOR, nor any census record for her. Maria JUHASZ was indeed born in 1840 in Zsadany, Slovakia; since this woman died in 1910, she may not appear in the 1910 census. Of course, this may be an aunt also.
My grandfather, George SANDERS, was born here in Wisconsin where I make my home; but his family moved to Johnstown shortly after 1900. George and Mary Jane NOVAK were married in Johnstown in 1928, but they moved to Youngstown, Ohio, soon afterward. They were listed in Youngstown in the 1930 census. George and Mary lived the rest of their lives in Youngstown and were buried at Calvary Cemetery there.
Mary Jane NOVAK's father was also buried in the St. Stephen's Cemetery. Stephen NOVAK came to the United States in 1890, and was first married to Anna OCIPA in Europe. Anna died in 1901, and Stephen married my great-grandmother, Johanna KASCSAK, shortly thereafter. Stephen died in 1911.
Johanna KASCSAK lived well past the death of her husband and never remarried. Stephen died in 1911, and Johanna lived until 1959. She was buried in the very large Grandview Cemetery in Johnstown.
The oldest child in the SANDOR family was Joseph, born in Europe in 1897. He came to Wisconsin in 1897 with his mother to join his father in Manitowoc. He married Mary Rose TOKAR in 1918 in Johnstown, and many of their children were born there; their youngest daughter was born in 1928, in Youngstown, and Joseph and Mary Rose were both buried in Calvary Cemetery in Youngstown.
Several of the elder Joseph and Maria SANDOR's children died young, and are buried near them in St. Stephen's Cemetery. Anna was born in 1898 in Wisconsin and died in 1906 in Johnstown. Her sister Elizabeth was born in Johnstown in 1904, and died there in 1906. The sisters died about a week apart, of diphtheria.
George SANDOR was the second oldest boy in the SANDOR family. The third brother was John, who was born in 1907 and died in 1977. He married Anne KUHARCIK in Johnstown, and was buried with Anne in Grandview Cemetery.
Frank SANDERS was the second youngest brother, and he too moved to Youngstown, and is buried with his wife Joanna STANKO SANDERS in Calvary Cemetery in Youngstown. I never knew Joseph, John or Andrew SANDOR, but I knew Uncle Frank. His wife Joanna died in 1972, and Frank and my grandmother kept each other's company in the last years of their lives. I did not take pictures of the gravestones of Frank and Joanna because they needed to be cleaned up considerably, and I didn't have any tools with me. I did take a picture of the grave of their son, Kenneth, buried with them. Fr. Ken SANDERS was one of my favorite priests, who celebrated our marriage with us. We had hoped he would baptize our oldest son, but he died of a heart attack just before our son was born, and we gave our son the middle name Kenneth to honor Fr. Ken.
The youngest brother in the SANDOR family was Andrew. He was born in 1911, and lived in Johnstown all his life, farming on Dishong Hill northwest of Johnstown. Andrew never married, and died in 1991; he was buried with his parents and sisters in St. Stephen's Cemetery.
Note that the three brothers who moved to Youngstown all legally changed their family names to SANDERS; the brothers who stayed in Johnstown retained the SANDOR name.
Some of the NOVAKs are also buried in Grandview Cemetery. Stephen NOVAK had several children with his first wife, Anna OCIPA. Emil and Andrew Emil were half-brothers to my grandmother Mary Jane NOVAK.
The oldest child of Stephen NOVAK and Johanna KASCSAK was John, born in 1902 and died in 1980. He was buried in Grandview Cemetery with his wife, Amelia HAVEL NOVAK.
The youngest son of Stephen NOVAK and Johanna KASCSAK was Michael, born in 1910 and died in 1992. He was buried in Grandview Cemetery with his wife, Irene SAKMAR NOVAK.
The church in which many of the SANDOR and NOVAK sacraments were celebrated is the beautiful St. Stephen's Slovak Catholic Church on 4th Avenue in Johnstown. The outside of the church and several pictures of the inside are shown below.
*******
Please direct comments (broken links, content errors, and so on) to
MadVintner@aol.com
.




This page was last updated on 10/13/2013.