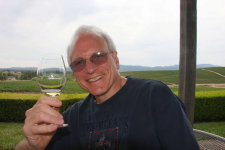 ANCESTORS of IRVIN JOSEPH ROME
Dad spoke often about his years growing up in Louisiana, and I visited his sisters in Destrehan with my wife Linda, and learned to love Louisiana cooking. When I started learning about the history of the pioneer families of Louisiana, I was fascinated by their stories of survival in the completely foreign environment they were thrown into. They were survivors, and when I thought about these families, I often pictured Irvin as one of them. I think he would have fared well.
Irvin Joseph ROME died in Madison, Wisconsin, on Nov. 18, 2000, at the age of 82, with his two daughters beside him. His ashes were interred alongside his wife and two children on Memorial Day weekend, 2001, at the Calumet Park Cemetery in Merrillville, Indiana.
My father-in-law, Irvin Joseph ROME, was one of the inspirations for this genealogy. Born in Lutcher, Louisiana, in 1918, he came of age during the Great Depression, saw action in Europe during World War II as a Group Supply and Engineering Officer with the
406th Fighter Group
, and experienced the untimely deaths of six of his eight children from a variety of illnesses and accidents. Yet he still managed to retain the generous spirit, kind heart, and above all, faith in God, that he was known for throughout his life. He started me on the path of both making wine and studying family history and genealogy.
I've always loved history. I studied European History at
Allegheny College
, and got a minor to go with my major in chemistry. But I never had looked at personal history much. Then one day in 1999 my 9th grader, who was studying World War II at the time, asked me if he was related to
Erwin Rommel
, the great German general. "It's possible," I said, "but I don't think we can prove it." That started me into the hobby I have enjoyed since then, genealogy. I started with the family of my father-in-law, the ROMEs of Louisiana. Knowing some of the general history - the story of the John Law colonists and their settlement in Louisiana - I searched the Web, asked na´ve questions, and then went to the local
Historical Society Library
. Just about a year later I had a genealogy of the extended ROME/ROMMEL family from Louisiana. About 2 years later I had done considerably more to recreate a picture of the communities through the marriages and children of these families. I have never answered the question about Erwin Rommel. From everything I have seen, it is unlikely that the families of the field marshal and Johannes ROMMEL were closely related in the 16th century. Today it is possible, through DNA mapping, to demonstrate relationships through the male or female lines of families. I would love to have a male ROMMEL who can trace paternity to the male ancestors of Erwin ROMMEL submit DNA for a comparison to a male ROME descendant.
I can demonstrate relationships of the Destrehan ROME family to several people who were reasonably famous in the sports world. My children are 9th cousins to the father of Brett FAVRE, long-time quarterback of the Green Bay Packers; and 10th cousins to the mother of Jake DELHOMME, a journeyman quarterback who played for the Carolina Panthers in the 2003 Super Bowl.
Along the way I received help from a number of people, and I'd like to acknowledge some of them here. I am sure there were others whom I haven't listed - be assured no slight is intended. Besides the authors of numerous texts and Web sites, I would like to thank Darlene Becnel Schnatz for helping me to get started in this endeavor; Steve Fleming for his excellent site and discussions concerning the wives of Antoine LEROUX; Joe Hebert, Tim Stuart and Tim Hebert for their advice, information, and websites about the Acadians;
Dwayne Montz
and Jay Schexnaydre for discussions of the Louisiana sacramental records and other aspects of family history. I met Jean-Jacques Prenoveau in 2006 in Montreal; Jean-Jacques has done extensive work on the descendants of Mathieu ROUILLARD and Jeanne GUILLET. I have found that most genealogy researchers are willing, even eager, to share what they know, and I have benefited enormously from this exchange.
My primary source of published information has been the library of the
State Historical Society of Wisconsin
, and I would like to acknowledge them and thank the many donors who have made this library possible.
Organization - The ancestors of Irvin ROME in Louisiana can be grouped into several broad categories. There were the early German Coast and New Orleans area colonists, many of whom came to work on the
John Law Concession
and other enterprises in Louisiana. This includes the ROMMELs, from whom the ROMEs take their name. They joined other early colonists in the New Orleans and Mississippi River area. Information about these families and their ancestors in Europe was mostly obtained from the very helpful
German Coast Families
by Albert J. Robichaux Jr. There are many Acadians, ancestors of Francina DUHON, Irvin's paternal grandmother. Other French Canadians from Quebec were ancestors of Elia ST. CYR, Irvin's mother. The LECHE, KELLER and PERCLE families were Alsatian immigrants of the 1750s. There were a few families from early Mobile, AL, and a number of 18th century Louisiana and Mobile soldiers are to be found. I have not been able to trace the origin of several families. Help with the ancestries of Pierre ARROUETTE (Nantes, France?), Nicolas BAUDOIN (France), Catherine BEAUPAIN (Germany), Jean MILLET (Quebec), Francois DESCARREAUX (Quebec), Louis GREGOIRE (Malta?) and Noel WELLS (Pennsylvania?) would be particularly welcome.
LINDA ROME in 2013
References
- Nearly all my "facts" are referenced to sources. To avoid repetition and save space, I have used abbreviations for many of the sources I consulted. The
references document
contains most of the publication information that should allow you to find the data I used in constructing my genealogies. Where no references are given, the fact is my own speculation, or I have lost track of the source.
Electronic Documents
- I have listed a number of electronic sources for my genealogies. You might find something useful here too, if the pages have survived. Unfortunately, many electronic links are ephemeral, so I can't guarantee that all of these are still active. I will check periodically and try to correct the broken links. In the meantime, happy hunting!
*******
Please direct comments (broken links, content errors, and so on) to
MadVintner@aol.com
.




Research for these genealogies was done largely at the State Historical Society of Wisconsin Library in Madison, Wisconsin. Visit them at
http://www.wisconsinhistory.org/libraryarchives/
. I would like to thank them and recommend to all that you support your local historical society with donations.
This page was last updated on 10/19/2013.