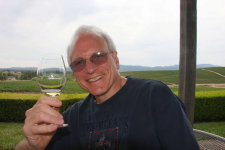 ROME and ST. CYR CEMETERY PHOTOGRAPHS
The ROME family has been in the River Parishes of Louisiana, upriver from New Orleans, since about 1721. Although Irvin's ancestors are all buried in the area, only a few generations are represented by extant gravestones. Irvin, his wife Dorothy EMBSHOFF ROME, and two of their children who died young are buried in
Calumet Park Cemetery
in Merrillville, Indiana. Anne was the first-born; she died of meningitis when she was just six years old. Kearney, named after Irvin's brother, died of cancer when he was just short of three years old. Their graves are shown below.
Although Irvin and Dorothy had eight children, only Patricia and Linda are still alive. One brother, Arthur Charles (Archie), lived to adulthood, but died accidentally in 1981 at the age of 19. He is buried in the Allegheny County Memorial Park, north of Pittsburgh, Pennsylvania.
Irvin's parents were Edwin ROME (1889-1978) and Elia ST. CYR (1897-1975). They lived their later life in Destrehan, St. Charles Parish, Louisiana, and are buried in the St. Charles Borromeo Catholic Church Mausoleum. Edwin and Elia had two daughters who never married and who are buried with them at St. Charles. Ethel (1915-2000) was the matriarch of this ROME family when I first visited Destrehan at Christmas 1978; Murlyn ("Toot", 1920-2007) died while Linda, Pat and I were visiting New Orleans in 2007.
The second oldest child of Edwin and Elia ST. CYR ROME was Gertrude (1917-1986); she married Steve ERDELYI (1921-1992) in 1941. Gert and Steve are both entombed in the St. Charles Mausoleum; Steve is near his mother Rose (1895-1983).
Edwin's parents were Jean Edouard ROME (1829-1899) and Francina DUHON (1857-1950). Jean Edouard was first married to Marie Corestine WEBRE (1822-1875); he married Francina in 1882 and had a second family. We have no pictures of Jean Edouard ROME; although we know he was buried at St. Michael Cemetery in Convent, his grave is currently unmarked. Francina DUHON is also buried at St. Michael's, along with one of her daughters, Stella (1893-1982) ROME COLLINS.
Elia ST. CYR was the daughter of Hermogene ST. CYR (1869-1930) and Eveleda DESCARREAUX (1858-1922), both of whom were descended from French Canadian families who came to Louisiana around the middle of the eighteenth century. Hermogene and Eveleda are buried together in the St. Joseph Catholic Cemetery in Paulina, St. James Parish, Louisiana.
*******
Please direct comments (broken links, content errors, and so on) to
MadVintner@aol.com
.

Research for these genealogies was done largely at the State Historical Society of Wisconsin Library in Madison, Wisconsin. Visit them at
http://www.wisconsinhistory.org/libraryarchives/
. I would like to thank them and recommend to all that you support your local historical society with donations.
This page was last updated on 10/19/2013.