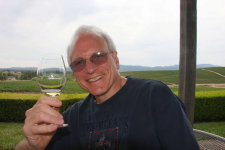 The first KEFFER immigrant ancestor of Lillian KEFFER came to Philadelphia in 1767 and migrated west to Bedford and Somerset Counties, and eventually to Fayette County, PA. Lillian's ancestors also include RIDENOURs, MOODYs, and SLEESMANs. There are active genealogical groups studying the origins of the RIDENOUR/RITENOUR and MOODY families, and if anyone is interested in pursuing these further, feel free to email me. I believe, although I have not been able to prove it, that Lillian's ggg-grandfather George SLEESMAN, born about 1765, probably in New Jersey, descends from the SCHLESSMAN family that arrived in Philadelphia in the 1750s. This is one of the most-studied German immigrant families of the 1700s, because of the numerous letters back to Europe that have been preserved. Unfortunately, the link between SCHLESSMAN and SLEESMAN gets lost in New Jersey in the 1780s, but I have hopes that a positive link will be found in the near future.

KEFFER ANCESTORS
Lillian KEFFER's father, John William KEFFER (1873-1951), was the postmaster in Star Junction, Fayette County, PA, before moving his family to Youngstown, OH. He is shown below left in an undated photo. Lillian's mother was Mary Agnes SHUMAR (1878-1928). Lillian (standing) is shown with her mother in an undated photo below right.
I know very little about the SHUMAR ancestors of Lillian's mother. Surnames from this family include SHUMAR, O'GAR(A), WABLE, and ALLEN, but I know little besides some bare facts concerning birth, death and marriage dates. Mary Agnes SHUMAR was photographed as a young lady with a younger half-brother or cousin, below. Mary Agnes was born in 1878 and her half-brother Frank was born in 1882, and I wouldn't be surprised if Frank is the boy in the photograph.
Mary Agnes was the daughter of Samuel SHUMAR and Mary Jane (Molly) O'GAR. Molly had two children with Samuel that I know of, Isaac William and Mary Agnes. She then left Samuel, married Emanuel KEFFER and had a number of other children. Lillian therefore had two families of KEFFER grandparents, Levi and Martha MOODY KEFFER, and Emanuel and Molly O'GAR KEFFER; this was the source of considerable confusion in establishing these genealogies.

I don't have any pictures of Samuel SHUMAR, but Molly O'GAR was photographed with her second husband Emanuel KEFFER, along with her second family, below. Emanuel and Molly are shown about 1898 with children Levi Brudd (in hat, born 1885, married Mary SWINK), Lloyd Thomas (far left, born 1891, married Lyda SWINK), Harrison Solo (Saul, in the chair, born 1894), and Hilda Ellen (called Sis, in Emanuel's lap, born 1897, married Eli KRUSE).
We have another picture of Molly O'GAR in her later years, below. She lived to be 90, dying in 1948 in Dawson. Thanks to Doris RITENOUR MORGAN, granddaughter of John William KEFFER and Mary Agnes SHUMAR, for the pictures of the Levi and Emanuel KEFFER families, as well as the picture of Molly O'GAR and a number of other old photos.
Photographs of other KEFFER and related families can be seen
here
.
*******
Please direct comments (broken links, content errors, and so on) to
MadVintner@aol.com
.

This page was last updated on 10/19/2013.
I have many fewer photographs of Lillian KEFFER's ancestors than I do for her husband Alvy WITT's family. Lillian KEFFER's grandfather was Levi KEFFER, and her grandmother was Martha Jane MOODY. Levi and Martha were photographed with their children and grandchildren about 1897, below. Levi and Martha are on the far right; the group at the left are: Emery (born 1893) and Harry (born 1896) EASTER, children of Henry and Melissa (KEFFER) EASTER; Margaret KEFFER, who married Emanuel SHAFFER; John William KEFFER in the middle of the left group; Lisa (Melissa) KEFFER EASTER; the three KEFFER boys, sons of Levi and Martha, are Jim (born 1884, married Emma Elizabeth EASTER), George (born 1886, married Rachel BAKER), and Elmer (born 1890, married Kate SHUMAR).