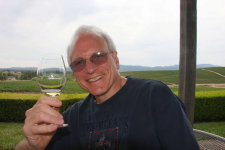 WITT ANCESTORS
Alvy WITT's earliest ancestors we have pictures of were his grandparents Martin WITT and Elizabeth Louise KREHER. Martin was born in 1830 in Germany, and came to America with his parents in 1831; we've never found the ship he immigrated on. Louise's parents came from Germany to Baltimore aboard the ship Copernicus in 1838, and Louise was born in Pennsylvania in 1840. The following undated photographs were taken at Gilbert's on Fifth Avenue in Pittsburgh, Pennsylvania.
Bob Staresinic is another great-great-grandson of Martin and Elizabeth Louise KREHER WITT who has proved to be a wonderful source of pictures of these ancestors who moved to Pittsburgh in their later years. Bob provided the following photo of Martin and Louise in 1919; it was taken at the house on Rebecca St. (now Aiken Ave.) in Pittsburgh.
Alvy's parents were Joseph WITT and Mary Elisabeth GOVERNOR, married in 1890. Mary Elisabeth came from Germany with her parents aboard the Vandalia in 1872, a year that saw huge numbers of Germans emigrate to America. The BODENs were aboard the same ship, and Elizabeth (Lizzie) BODEN married Joseph's brother Martin WITT in 1889.

The parents of Mary Elisabeth GOVERNOR were Nicolas GOUVERNEUR and Katherine KRANTZ, both born in Rodt bei Zemmer, Rheinland-Pfalz, Germany, north of Trier. The pictures below were sketched sometime after their arrival in America. These drawings are hanging in my living room in Madison.
Pictures of my relatives from the GOVERNOR families, who enjoyed frequent reunions, are given at
GOVERNOR Photos
.
We have an old, very dim photo labeled "The WITT's Whole Family". I believe it is Joseph and Mary Elisabeth GOVERNOR WITT, with 2 boys and 2 girls - from left, this must be Leo, Cecilia, Richard, Joseph, Eda, and Mary Elisabeth. From the ages of the children, the picture must have been taken about 1896, when Richard was about 10, and Leo was 2.
The photo below shows the family of Joseph WITT and Mary Elisabeth GOVERNOR sometime around 1910 or so. The women standing are Eda WITT (about 19, married Leo LUCAS about 1912); Mary Elisabeth GOVERNOR WITT (about 39); and Cecilia WITT (about 18, married Jack MORRIS in 1921). Seated in front are Francis WITT (about 11, married Helen BIXLER in 1918); Leo WITT (about 16, married Mary Edna BRIZENDINE in 1920); my grandfather Alvy WITT (about 9); Joseph WITT (about 42); and Richard WITT (about 23, married Blanche CLARK in 1910).
Alvy WITT was a lawyer in Youngstown, where he lived most of his life. Three photos of Alvy show his progress from a young man (love the hair).
My mother, Mary Catherine WITT SANDERS, was born in 1933. A photograph of Mary Catherine as a toddler is shown below.
Other pictures of the WITT families are given at
WITT Photos
.
*******
Please direct comments (broken links, content errors, and so on) to
MadVintner@aol.com
.







This page was last updated on 10/19/2013.
The family settled in Vienna, Ohio, north of Youngstown, where there is still a GOVERNOR insurance company. We have the passport Nicolas was issued from the Prussian government, in addition to his naturalization papers. The couple was photographed in 1873, the year after their arrival in America, with children Mary Elisabeth and Hannah, who married John CLAIR.
The picture below of Mary Elisabeth GOVERNOR and Joseph WITT was taken summer of 1929 in Youngstown. The toddlers are their grandchildren Gene MORRIS (adopted son of Cecilia WITT and Jack MORRIS), and Alva May WITT (daughter of Alvy and Lillian KEFFER WITT). Alva May died in 1930.