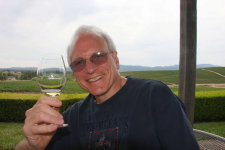 Other KEFFER Photographs
Lillian KEFFER had two sisters, Tryllis and Mildred. Infant Tryllis was photographed (right) with her two-year-old sister Martha Ellen KEFFER in 1900. Martha died late in 1900.
Tryllis was born in 1900, Lillian in 1904, and Mildred in 1909. Lillian (lower left in the photo below) and Mildred (upper right) were photographed with 3 of their aunts sometime in the mid-1920s. The other three women are sisters, aunts of Lillian and Mildred, half-sisters of Lillian's mother Mary Agnes SHUMAR KEFFER. They have been identified by Doris RITENOUR MORGAN, youngest daughter of Tryllis: Aunt Ada SHUMAR (b. 1903, top left), who married Fred SCHIFFBAUER; Aunt Eva SHUMAR (1894-1966, middle), who married William POWERS; and Aunt Josephine (Teenie) SHUMAR (1900-1973, lower right), who married Frank PAPKE.
Tryllis married Van RITENOUR and had four daughters. The oldest, Betty RITENOUR (1924-1989), used to help Lillian with child care. The picture below left shows Betty with Lillian and three children, Mary Catherine and Bob in front, Maureen in Lillian's arms, at Niagara Falls in 1939. On the right is a picture taken in 1946 (probably a high school senior picture) of Doris RITENOUR, the youngest daughter of Van and Tryllis.
A group of KEFFER siblings, children of Elmer Ellsworth and Kathryn SHUMAR KEFFER, got together in 1959 for a photograph. They have been identified as (left to right) William Raymond (1909-1999); Tryllis Pearl (1919-1993); Willis E. (1919-2003); Elmer Ellsworth (1890-1971, son of Levi); Eugene (1921-1988); Kate SHUMAR (1891-1972); Ralph S. (1917-1982); Harry Edward (1912-1977); and John Bernard (1924-). (Brother James (1914-1966) is not pictured, and another brother, Harold, died about 1942.)
*******
Please direct comments (broken links, content errors, and so on) to
MadVintner@aol.com
.







This page was last updated on 10/19/2013.