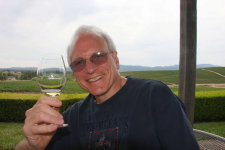 WITT and KEFFER Cemetery Photographs
John WITT and Christina WUNDERLE emigrated from Gernsheim, Germany in 1831 with their son Martin WITT, who was about a year old when they arrived; the ship they came on has not been identified. They settled in the farm community of North Oakland, a few miles northeast of Butler in western Pennsylvania. John and Christina lived in Butler County the rest of their lives, and died there at the ages of 72 and 82. They were buried in the cemetery of St. Joseph Roman Catholic Church in North Oakland; they were not buried together, but several rows apart. John's grave is near some others graves from 1873; the stone is surrounded by plants, sunk into the ground, and difficult to read.
My brother Greg sketched John's tombstone when he visited Butler County many years ago. His sketch is on the left below. Christina WUNDERLE WITT died in 1887; she is buried several rows away from John in the same cemetery. Many other WITTs are buried in this cemetery, and pictures of those graves can be found at
Other WITT Family Graves
.
Christopher KREHER and Anna Maria HAUS came from Münster, Germany in 1838 with some of their children, on the Copernicus; Louise KREHER was born in Pennsylvania in 1840. I do not know where Anna Maria is buried. Interestingly, Christopher KREHER is buried in the small old Paderborn, Illinois, cemetery of St. Michael's Catholic Church. This cemetery southeast of St. Louis includes a monument with four names on it, including Christopher KREHER. The cemetery is shown below on the left (the arrow points to the KREHER monument). The monument, right, is weathered, and parts of it are very difficult to read, but the front appears to say "Hier ruht Christophe KREHER". Christopher died in 1852, when Louise was only 12. He was undoubtedly visiting his other daughters in Illinois and Missouri at the time he died.
Martin WITT and Louise KREHER were married in 1858; they lived in Butler County, PA, Trumbull County, OH, and Allegheny County, PA. They were buried in Mount Carmel Cemetery in Pittsburgh. The stone (below) is clearly not an original marker. (The picture was taken and sent to me by Ralph BODEN, whose ancestors came from Rodt with the parents of Mary Elizabeth GOVERNOR. Joseph WITT's brother Martin married Lizzie BODEN.) Many other WITT, BODEN and ZAHRINGER (Joseph ZAHRINGER married Gertrude WITT, granddaughter of Martin and Elizabeth KREHER WITT) graves are located at the Mt. Carmel Cemetery in Pittsburgh. Pictures of these and graves of other WITT family members are found at
Other WITT Family Graves
.
Joseph WITT was born in Butler County, Pennsylvania, in 1868, but was in Trumbull County, Ohio, with his parents in 1880. He married Mary Elizabeth GOVERNOR in Ohio in 1890, and his first children were born in Vienna, Pittsburgh, and Cleveland, but the family is found on the censuses of Youngstown, Ohio, from 1900 onward. Mary Elizabeth had emigrated from Germany in 1872 with her family, who settled in Vienna, just north of Youngstown. Both Joseph and Mary Elizabeth were buried in Calvary Cemetery in Youngstown. A new stone marker was placed at the head of the WITT graves in 2008.
My grandfather Alvy WITT was born in Youngstown, Ohio, and lived nearly all his life there; my grandmother Lillian Mae KEFFER was born in Star Junction, Pennsylvania, but moved to Youngstown about 1918 or so. John William KEFFER was listed with his family in the 1920 Youngstown census. Both Alvy and Lillian were buried at Calvary Cemetery in Youngstown.
Joseph WITT married Mary Elizabeth GOVERNOR; her father was Nicolas GOUVERNEUR and her mother was Katherine KRANTZ, both from Rodt, Germany. They came to America with young Mary Elizabeth in 1872. Nicolas and Katherine were buried together in the cemetery of St. Patrick's Catholic Church in Hubbard, Ohio, northeast of Youngstown; a daughter who died very young, Lucy Agata, was buried with them. The picture below shows me and my mother, Mary Catherine WITT SANDERS, at the cemetery in 2003; we were visiting with Ralph BODEN, who took the picture, and whose BODEN ancestors are buried nearby.
The brother of Katherine KRANTZ, Mathias, immigrated to Pine Bluff, Wisconsin, about 1867. His descendants are numerous in Pine Bluff and Dane County. Many of our KRANTZ cousins are buried in St. Mary's Catholic Church Cemetery in Pine Bluff. I photographed many of the stones on a visit to the cemetery over Memorial Day, 2008, and these photographs are shown at
Krantz Graves
.
The KEFFER family was in Fayette and the surrounding counties from about 1800 on. A marker in honor of Joel KEFFER (1820-1897) was erected in the Cochran Cemetery outside of the small town of Dawson, Lower Tyrone Township, Fayette County, PA.
Levi KEFFER (1849-1904) was the oldest son of Joel KEFFER; he married Martha Jane MOODY (1857-1924) about 1871. Levi and Martha were buried in Cochran Cemetery; their stones are shone below.
John William KEFFER (1873-1951), son of Levi KEFFER, married Mary Agnes SHUMAR (1878-1928) in 1896. John KEFFER moved his family from Fayette County, Pennsylvania, to Youngstown, Ohio, about 1918, and he and his wife both died in Youngstown, but they were also buried in Cochran Cemetery.
There are many other KEFFER graves at Cochran Cemetery and other cemeteries in Fayette and nearby counties.
*******
Please direct comments (broken links, content errors, and so on) to
MadVintner@aol.com
.







This page was last updated on 10/19/2013.