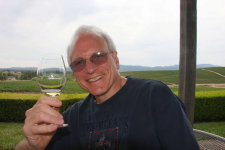 WITT FAMILY PHOTOGRAPHS
Elizabeth Louise KREHER (1840-1930, wife of Martin WITT) was photographed as a relatively young woman, and I recently obtained a scan of that photo from Bob Staresinic. Interestingly, there is a similar picture of her older sister Elisabeth KREHER (1928-1911) in the "History of St. Clair County, IL". Elisabeth came to the United States with her parents in 1838 aboard the Copernicus. I don't have a photo of the elder Elisabeth, just a scan of a copy from the book, so the quality is poor. Nonetheless, I think the similarity of the photos is striking; the elder Elisabeth is on the left, while Elizabeth Louise is shown on the right. The KREHERs appear to have been a reasonably well-to-do family, to have photographs taken relatively early in the history of photography.
The KREHERs were prominent in St. Clair and Monroe County history. Christopher KREHER, father of Elisabeth and Elizabeth Louise, was buried in Paderborn, St. Clair County, IL.
My great-grandfather Joseph WITT (1868-1943) was the third son of Martin WITT and Elizabeth Louise KREHER WITT. Elizabeth Louise was photographed (after Martin WITT died) with a number of her children and grandchildren in Pittsburgh. Louise was pictured with her surviving sons and one daughter; pictured are George (1872-1961, married Martha Elizabeth RITZERT), Martin M. (1866-1941, married Lizzie BODEN), John (1863-1942, married Johanna THANER), Joseph (1868-1943, married Mary Elisabeth GOVERNOR), Annie (1862-1945, married Jacob Martin STEWART), and Elizabeth Louise KREHER WITT. Louise's other children were Barbara (1859-1877), Catherine (1860-1861), Caroline (1870-1956, married William COLE), Margaret (1875-1961, married Patrick CARRAHER and Bernard MULLEN), Michael Lawrence (1879-1880), William John (1883-1893), Ella Elizabeth (1885-1971, Sister Mary Martin of the Sisters of Charity), and Reuben Henry (1888-1888). (Picture from Bob STARESINIC, great-great-grandson of Elizabeth KREHER through Martin M. WITT.)
Some wives of the WITT men were included in another photo taken at the same time; pictured are (back row, l-r) George, John, Johanna THANER WITT (1862-1949), Martin, Mary Elisabeth GOVERNOR WITT (1870-1951), Joseph; Annie WITT STEWART, Elizabeth Louise KREHER WITT. The woman in the front is apparently Blanche WITT, daughter of Richard and Blanche CLARK WITT, and granddaughter of Joseph and Mary Elisabeth. She was living with her grandparents in 1930, and would have been a teenager when this photograph was taken, perhaps 1927 or 1928.
The following picture is dark, but I post it to ask for help in identifying people in it. It was taken before Martin WITT died in 1921. From the left, Martin M. and Lizzie BODEN WITT are pictured with his parents Martin and Elizabeth Louise KREHER WITT. Who are the people on the right side of the photo?
Louise was also photographed with some of her STEWART grandchildren, daughters of Anna Mary WITT and Jacob Martin STEWART. They are Ida, Margaret and Lulu STEWART.
Several members of the extended WITT family became nuns, Sisters of Charity. Ella Elizabeth WITT (Sister Mary Martin) was the daughter of Martin WITT and Elizabeth Louise KREHER; Elizabeth WITT (Sister Mary Augustine) was the daughter of John WITT and Johanna THANER; Caroline Mary COLE (Sister Mary Joan), Adelia Elizabeth COLE (Sister Rita Catherine), and Catherine Genevieve COLE (Sister Mary Emma), were daughters of Caroline WITT and William COLE. Sisters Rita Catherine, Mary Joan, Mary Martin, and Mary Emma were pictured with Caroline WITT COLE and Father William WITT (great-grandson of Martin WITT and Elizabeth Louise KREHER WITT), about 1950 or so.
Martin and Louise KREHER WITT were pictured with John and Johanna THANER WITT and others in the following photograph from a newspaper in 1920. John's daughter Elenora Clara WITT married Joseph ROOLF, son of John A. and Margaret Mary OSTEIN ROOLF. (Note that Dorothy Marie is ROOLF, not WITT, Martin and Louise's great-granddaughter.)
John WITT (1863-1942) was a grocer who lived in Pittsburgh for much of his life. He was killed in a robbery of his store at 1001 Blackadore Ave. in Pittsburgh. Blackadore is in the Brushton neighborhood of Pittsburgh, just south of Mount Carmel Cemetery.
Alvy WITT had three brothers and two sisters (another brother, Wallace Camillus, died in 1899 at the age of 2). The oldest brother was Richard (1886-1915), who married Blanche CLARK in 1910, but died in 1915 of Bright's disease. Their wedding portrait is shown on the left below. Richard's only child was a daughter, Blanche WITT; Blanche CLARK WITT remarried sometime around 1920, and left her daughter Blanche WITT to be raised by her grandparents Joseph and Mary Elisabeth GOVERNOR WITT. Blanche is shown on the right in 1928, age 16. I have always been interested in the birth date of Richard WITT, which was several years before Joseph and Mary Elisabeth were married. Discussions with my mother in 2009 have convinced me that Richard was the son of Mary Elisabeth, but not of Joseph. I do not know who the father was; Joseph adopted Richard, and he was raised as the son of Joseph.
Blanche WITT became a nun in the Sisters of Charity, taking the name Sister Mary Alquin. She is shown in the larger picture below, on the left, with her grandmother Mary Elisabeth GOVERNOR WITT behind her. The other nun in the picture is, I believe, Sister Mary Pius. The picture on the right is labeled as Sister Mary Pius, 1945, and I believe this is the same person as is shown in the larger photo. I believe Sister Mary Pius was a friend from the same convent; nuns were expected to travel together wherever they went.
Alvy's oldest sister Eda (1890-1958) married Leo LUCAS about 1912; her wedding portrait is shown below left. Eda and Leo were photographed in 1941, below right.
Cecilia and Leo WITT were photographed at Dougherty's in Youngstown, about 1912, probably at the time of Eda and Leo LUCAS's wedding.
Cecilia WITT (1892-1982) married John P. (Jack) MORRIS in 1921. They are shown below left in 1925. Jack died in 1948, but Cecilia lived until 1982. I remember her coming to our house with her dear friend Nora HELT, and the two of them sitting in the back yard under the maple tree peeling apples for pie or snapping beans for dinner. Jack and Cecilia adopted a son, Gene (1928-1989), as a baby. Cecilia, Gene, and Aunt Eda WITT LUCAS are shown below right in June 1941. Cecilia, Gene and his wife Marilyn THOMAS MORRIS are shown in the third picture below.
The next son was Leo (1894-1952), below left; Leo married Mary Edna BRIZENDINE McCOY in 1920. Mary Edna is shown below right with Leo's parents. Leo and Mary Edna never had children.
Francis (1899-1992) was only two years older than Alvy, and the two men were friends and frequent companions. Francis married Helen BIXLER in 1918. Uncle Francis is shown below in 1977. Additional pictures of the Francis WITT and Helen BIXLER family can be found at
WittBixlerPhotos
.
Alvy and Lillian WITT's oldest child was Alva May (left), born in 1928 and died in 1930 of pneumonia, less than a week before the birth of their only son, Bob (right), who died in 1967 at the age of 37 from diabetes. His children, my cousins, have a website with many additional photos at
http://www.robertwittfamily.com
.
Bob WITT married Eve MONDRUT in 1951. The picture below shows Bob and Eve on their wedding day with Maid of Honor Mimi MONDRUT, the bride's sister, and Best Man Ervin SANDERS, my father and the groom's future brother-in-law.
Shortly after World War II Alvy and Lillian sponsored a young immigrant from Germany. Twenty-two year old tailor Tony SEIDL, from Munich, lived with them for a while, and has been a lifelong friend of our family. He is pictured below with Lillian serving a thanksgiving dinner immediately after his arrival.
Alvy and Lillian KEFFER WITT had 25 grandchildren. The following picture of 23 of them, my siblings and all but my youngest cousins, was taken in late 1967, next to the garage at 264 N. Heights Ave., in Youngstown, Ohio, where Alvy and Lillian lived for many years.
My gg-grandfather Martin WITT was born in Germany, but the next child in the family, Lawrence (1832-1915), was born in Butler County, PA, shortly after the family arrived in America. He married Helena NEFF about 1860, and stayed in Butler County the rest of his life. This portrait of his family was taken perhaps in the late 1880s. Catherine (1866-1898) married Joseph RITZERT in 1888; Christina (1862-1894) married Frank CLOUSE about 1883; Anthony (1874-1935) married Molly FORQUER about 1902; Theresa (1868-1954) married August SMITH; Elizabeth (1864-1942) never married; Eva (1870-1904) apparently never married; Frances (1876-1960) never married; Mary (1861-1927) married Charles McCARTHY; Susan (1872-1948) became Sister Christina.
I received the following portrait of Mary WITT McCARTHY (left) from members of the McCARTHY family, whom I have been in touch with over the last few years. I also have a picture of Frank and Christina Helena WITT CLOUSE (right) at their wedding.
*******
Please direct comments (broken links, content errors, and so on) to
MadVintner@aol.com
.








This page was last updated on 10/19/2013.