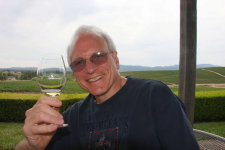 Francis WITT and Helen BIXLER FAMILY PHOTOGRAPHS
Francis WITT was Alvy WITT's brother, a few years older than Alvy, and the second youngest child in the family of Joseph WITT and Mary Elizabeth GOVERNOR. In addition to Francis being a good friend of Alvy's, some of his grandchildren were good friends to me and my siblings.
Francis married Helen BIXLER in 1918. Four generations of WITTs were together when Francis and Helen were photographed in 1919 with their oldest son, Governor WITT, and Francis's parents and grandparents. Martin WITT would have been 89, Louise KREHER WITT was 79, Joseph WITT was 51, and Mary Elisabeth GOVERNOR WITT was 48.

Francis had five sons and two daughters, but the older daughter, Ruth Gloria, died in an accident in 1932 at the age of 5. The children were pictured in 1930, below. They are (back) Francis Jr. (1920-2002), William, Martin Governor (1919-2004), (front) Fred (1924-2009), Howard (1929-2001), and Ruth (1926-1932).
Francis was pictured with four of his sons and some family friends. The boys, from left, are Francis Jr., Howard, William, and Fred. Francis Sr. is third from the right, and the two on the right are unidentified.
A portrait of Francis's family is shown below. The five sons (from left) are: Martin Governor, Fred, William (Father Bill WITT), Francis Jr., and Howard. Helen Kathryn (1934-2009) is the youngest child and only daughter.
The oldest child was Martin Governor WITT, shown below shortly after he joined the service. Governor spent time in Africa, Sicily and over Europe in a bomber, and then was stationed in Florida.
Francis WITT Jr. (in uniform in the family photo above) was shot down in his plane over Europe in 1943. He was thought lost, but returned home to marry and have a family.
Apparently, when Francis Jr. was shot down, Francis Sr. called his mother Mary Elisabeth GOVERNOR WITT, and said "Guess where Junior is. He's in Nazi Europe teaching his cousins the Star Spangled Banner." Mary Elisabeth, who had been born in Germany in 1870, fretted over her grandchildren fighting against their cousins in Europe, especially during World War I.

Francis and his sister Cecilia were pictured together in Key West about 1966 (left). Helen BIXLER and Francis WITT were photographed late in their lives, perhaps at a 60th wedding anniversary party.
Francis had a cottage on Lake Healey in Ontario, just east of the Georgian Bay near the small town of Mactier; the permanent population of Mactier was perhaps 20 during the years when we used to visit Uncle Francis for a week or so in the summer. Francis and Alvy are shown below at the cabin with Francis Junior, about 1974. The cabin is no longer in the family, but one of Francis's grandsons has a place near the cottage Francis once owned. One of Uncle Francis's favorite expressions when he'd see us (it didn't matter if we'd just seen him or not) was "Who's your favorite Uncle Francis and why am I?"
Helen BIXLER's father was William BIXLER, born in 1872 in Ohio. William's father was another William BIXLER, born 1842 in Germany (one census says Wirtemberg, another says Hesse-Darmstadt), and his mother was born in Germany (Wirtemberg, Baden) about 1852. Helen's mother Elizabeth was born in Ohio, but her parents were born in England and Wales. We have portraits of Helen's parents, William and Elizabeth ? BIXLER.
Helen BIXLER was pictured with her first son, Governor WITT, in 1919, with her parents.
Helen BIXLER's brother Paul was in the service in 1918, when the picture below left was taken. He is the young man on the right in the picture. I don't know who the insignia belonged to, but the patch on the right below was found with the picture. An internet search identified the patch as belonging to the 1945 Headquarters U.S. Forces, European Theater. Paul was no longer in the service in 1945.
We have pictures of several reunions of the BIXLER family. I can't identify many of the people in the two earlier pictures, reunions of the BIXLER and LEHN families (Mary LEHN was Helen BIXLER's grandmother, and the LEHNs lived near the BIXLERs) - identification by others is welcome. Many of the people in the third picture (about 1942) can be identified.
In the picture below, taken perhaps 1940 or so, Howard WITT is the boy in the front, far left; Helen Kathryn WITT is the girl fourth from the right; Helen BIXLER WITT'S father William is the man sitting, third from the left.
The picture below was taken about 1942 or 1943. Adults standing: Helen BIXLER WITT, Mary Lou MURRAY WITT, Francis WITT Sr., Florance CRAMER, Paul BIXLER, Florance BIXLER CRAMER, ?, Mary BIXLER SCHRIMSHAR, ?, Fred WITT in uniform, June SCHRIMSHAR. Middle row: Howard WITT, Elizabeth ? BIXLER, William BIXLER. Front row: Helen Kathryn WITT, a cousin.
*******
Please direct comments (broken links, content errors, and so on) to
MadVintner@aol.com
.








This page was last updated on 10/19/2013.