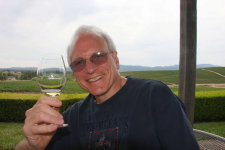 WISCONSIN LAKATOS COUSINS
Additional pictures of events in the lives of my SANDERS and NOVAK families are found in
SANDOR/NOVAK Photos
.
Pictures of the graves of the families of George SANDERS and Mary Jane NOVAK SANDERS are at
SANDOR/NOVAK Graves
.
Joseph SANDOR came to Manitowoc, Wisconsin, in 1896. Although the ship list shows his declared destination as Johnstown, PA, he undoubtedly came to Manitowoc because his new brother-in-law Michael LAKATOS (Joseph had married Mary LAKATOS in Also-Mislye, Slovakia, in February, 1895) lived in Manitowoc. My grandfather George SANDOR was born in 1900 in Manitowoc, but he and his family moved to Johnstown about 1903. As I learned more about the Manitowoc connection, I discovered relatives here in Wisconsin, a state I have called my home since 1978. I have communicated with several of them since 2007, and in 2008 I received pictures of some of my cousins.

My great-grandmother Mary LAKATOS, born in Zsadany, Slovakia, in 1877, was married to Joseph SANDOR in Slovakia in 1895. In 1897 Mary joined her husband in Manitowoc with their young son Joseph. There she was reunited with her brother Michael (Mihaly, born 1870 in Slovakia), who had come to Wisconsin when he was about 20 and married Mary SHUBER in 1892. Michael is pictured below left with Mary on his farm in Manitowoc County in the 1920s. The picture below right shows Michael and Mary about 1924 with some of their children, in-laws, and grandchildren. They are (front row, l-r) Michael LAKATOS (1870-1928), his daughter Matilda LAKATOS (1909-1989), his granddaughter Sylvia (1921-2004, daughter of Joseph Simon LAKATOS), his grandson Ervin (1923-1990, son of Ervin LAKATOS), and an unidentified woman named Helen; (back row, l-r) Mary SHUBER LAKATOS (1869-1927), holding her grandson Joseph Emil (1923-1989, son of Joseph Simon LAKATOS), Anna LAKATOS ROHRER (1898-1974, daughter of Michael and Mary), Anna's husband Walter ROHRER (1897-1987), and Clara STRADAL LAKATOS (1895-1962, wife of Joseph Simon LAKATOS).
Joseph Simon LAKATOS (1893-1959), oldest child of Michael and Mary SHUBER LAKATOS, was photographed as a young man:
*******
Please direct comments (broken links, content errors, and so on) to
MadVintner@aol.com
.






This page was last updated on 10/19/2013.