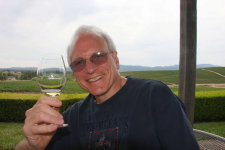 DANE COUNTY CEMETERY PHOTOGRAPHS
Alvy WITT's grandmother was Katherine KRANTZ, daughter of Mathias KRANTZ and Appolonia WAGNER of Rodt (north of Trier), Germany. She and her husband Nicolaus GOUVERNEUR and their young daughter Mary Elisabeth (who would become Alvy's mother) came to the United States from Europe in 1872. But about 5 years before that, Katherine's brother Mathias came to America. He settled in the small town of Pine Bluff, Wisconsin, about 20 miles west of Madison, where there was excellent farmland. The KRANTZ family became prominent in the area, and many of them are buried at St. Mary's Catholic Church Cemetery in Pine Bluff. I moved to Madison, Wisconsin, in 1978 to go to graduate school. It was 30 years later, in 2008, before I visited the St. Mary's Cemetery.

Matt KRANTZ and his two wives are buried near the back of the cemetery; the monument is quite large. Mathias (1847-1933) is buried with his first wife (and mother of all his children) Lucia BRECK (1854-1910). To the left is a smaller stone where his second wife, Margaret GOODING (1858-1929), is buried. To the right are two smaller stones where two toddlers are buried. These are apparently children of Mathias and Lucia who died very young: Carl (1878-1879) and Theodor (1890-1891).
The oldest child of Matt and Lucia KRANTZ was John (1876-1955), who married Marieann PALMA (1881-1964) about 1902. The second surviving child was Elizabeth (1880-1960), who married Valentine KALSCHEUR (1877-1953) about 1902. The KALSCHEUR family is quite extensive and one hears and sees the name frequently in Madison and the small towns to the west and north of Madison. The next child I know anything about is Joseph (1884-1973) and his wife Annie FARRELL KRANTZ (1889-1973). Adolph (1892-1941) and his wife Catherine (1892-1961) are also buried at St. Mary's; of the 10 children I know about, at least 6 are buried at St. Mary's.
Members of the next generation of the KRANTZ family are also buried at St. Mary's. The oldest son of John and Marieann PALMA KRANTZ was Mathias (1903-1989), who married Henrietta (1912-1994). Anthony KRANTZ (1906-1996) was the second son of John and Marieann; he married Loretta KALSCHEUR (1912-1999).
The third son of John and Marieann was Joseph (1910-1998); he and his wife Sadie (1912-2003) were buried at St. Mary's. Francis and Alfred were sons of John and Marieann KRANTZ who both died very young.
John KRANTZ (1915-1988) was the next son after Alfred; he married Clara Justina HAACK (1918-2005) in 1938. Francis, son of Joseph and Annie FARRELL KRANTZ, went missing in the Pacific in 1944; he was an aviation ordnanceman. There is a monument to him at the St. Mary's Cemetery, and his name is also included in a list of missing servicemen at Fort William McKinley in Manila, The Philippines.
Other relatives of my GOVERNOR family settled in Dane County in the 1860s and 1870s, descendants of my gggg-grandfather Peter GOUVERNEUR. Peter's daughter Elisabeth was born in 1810 and married Nicolaus SCHROEDER in 1833. Two of their sons, Johann and Mathias, came to Dane County, and today have numerous descendants here. Johann was born in 1836 and came here, apparently illegally (like Mathias KRANTZ), in 1867. He married Anna Katherine HELLENBRAND in 1873 and settled in Springfield Township about 1875. Johann spent his later years in the small village of Waunakee, and was buried in St. John's Catholic Cemetery in Waunakee; his grave marker is shown below left. Johann's brother Mathias SCHROEDER also came to Dane County about 1870, and was married here in 1879 to Catherine KESSENICH. He is buried in St. Martin's Catholic Cemetery in Martinsville, a lovely small community several miles west of Waunakee; his grave marker is shown below right.
Johann/John SCHROEDER's son John B. SCHROEDER married Margaret VOSEN. They are also buried at St. Martin Cemetery in Martinsville; John and Margaret's marker is below left. The two sons of John B. SCHROEDER, Anthony and Vincent, were also buried in St. Martin Cemetery; they apparently never married, were buried together, and their marker is shown below right.
*******
Please direct comments (broken links, content errors, and so on) to
MadVintner@aol.com
.








This page was last updated on 10/19/2013.